Product of the Best Ideas
The 41ft Seawind 1260 is a product of the best ideas, engineering and craftsmanship accumulated by the Seawind Catamarans team of expert builders and designers. With over 30 years' experience in building high quality offshore cruising catamarans the 1260 combines the best of the company's expertise and experiences into one of the world's most practical and capable 40' blue water cruising catamarans.
360 Degree Visability
Best of all, you can enjoy what many cats compromise on …… "visibility"' for the skipper AND crew. with 360 degree views from the helm and saloon seats all within the protection of the fiberglass coachouse and targa roof.
Twin helm positions are a must have for any true sailor, the Seawind 1260 offer the perfect balance between excellent 360 degree visibility and total protection from the weather in any conditions, whilst always offering the skipper full control and comfortable navigation around the cockpit.
Indoor/Outdoor Lifestyle
The Australian indoor/outdoor, open lifestyle is entrenched in this new design, with an unbeatable living area complimented with brilliant natural ventilation, protected cockpit lounge, and social helm seats putting the skipper in control as well as in the conversation.
Spacious Saloon
Seawind's award winning trifold doors lead to the spacious and well ventilated saloon which boats of a similar size with galley up can't offer. Her large windows all around allow for 360 degree views while inside the saloon. The fully open galley allows space for to cook up a storm in comfort while being engaged in conversation in the saloon or with the helm.
Owners Cabin
The Seawind 1260 features a spacious owners cabin with queen size owners bed and an amazing amount of storage. In the 3 cabin owners layout version the port hull has an adjoining full size bathroom. The starboard hull has two double berth cabins, an optional second bathroom and the galley.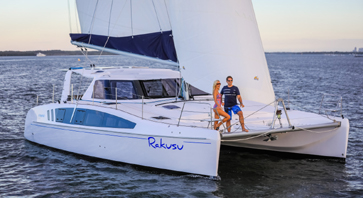 Boat description
The Seawind 1260 is a true blue water sailing catamaran, designed and built to survive the toughest conditions at sea. A sailing boat first and foremost, there is no compromise on safety at any stage in the design and build of these wonderful catamarans.